Though an indispensable ingredient in every kitchen, is cooking oil bad for soil? While you can't imagine cooking without oil, disposing of grease and leftover oil can be quite a task. Pouring it down the drain can cause clogging, so why not dump it in the garden bed?
When added in small quantities, vegetable oil may help conserve soil moisture & lower soil pH, increasing nutrient availability to plants. However, some studies have found that cooking oil harms plant growth. In addition, oils are an effective pesticides against aphids, mites, & scale insects.
What type of oil is safe, and how much can you add? Is used cooking oil good for your garden? It's important to learn what quantities and frequency are safe for the plants before applying cooking oil to the soil.
Is Cooking Oil Bad For Soil?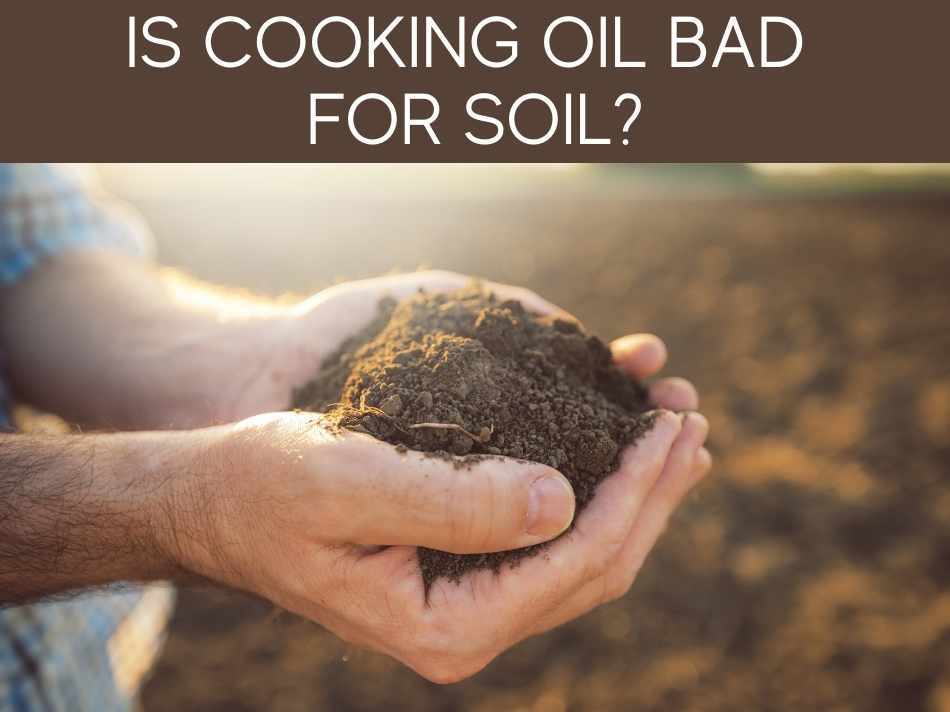 Cooking oil is easily available in the kitchen.
Once you've used it for frying, you'll look for ways to throw it.
The best option is to reuse it for cooking, baking, or frying.
However, after a couple of uses, you can simply let it cool, pour it in a container, secure it with a lid and throw it in the trash.
Though it does not have many beneficial effects on the soil, does it impact the soil negatively?
Cooking oil is bad for the soil since it can harm soil microorganisms.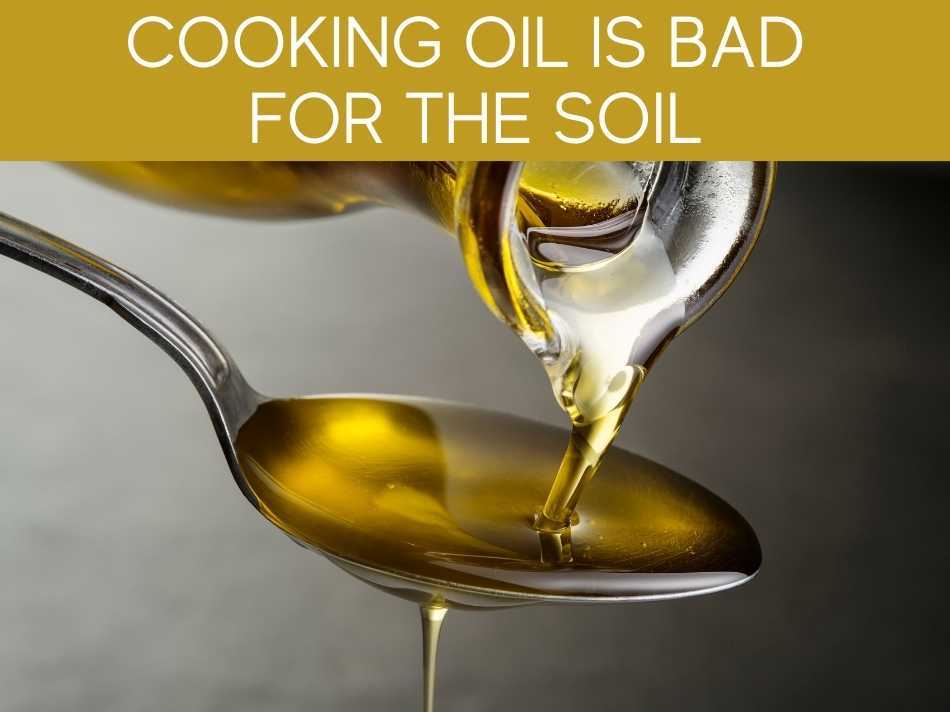 The number of these microorganisms may reduce, and their activity may slow down as a result of applying vegetable oil to the soil. 
However, when used in small quantities, oil applications to soil can help address some problems and reestablish plant vigor.
A small study showed that the use of vegetable oil in small quantities could conserve soil's moisture, thus keeping plants from drying out in water-deprived areas.
10 plants watered with a cup of water along with 2.5 ml vegetable oil each week showed positive results as compared to those that were offered only water.
However, used cooking oil should never be dumped in the soil as it can cause problems to wildlife.
If you're a nerd like me, you might want to monitor the pH & moisture level of your soil. So, check out our guide on whether soil meters are accurate.
Does Vegetable Oil Break Down In Soil?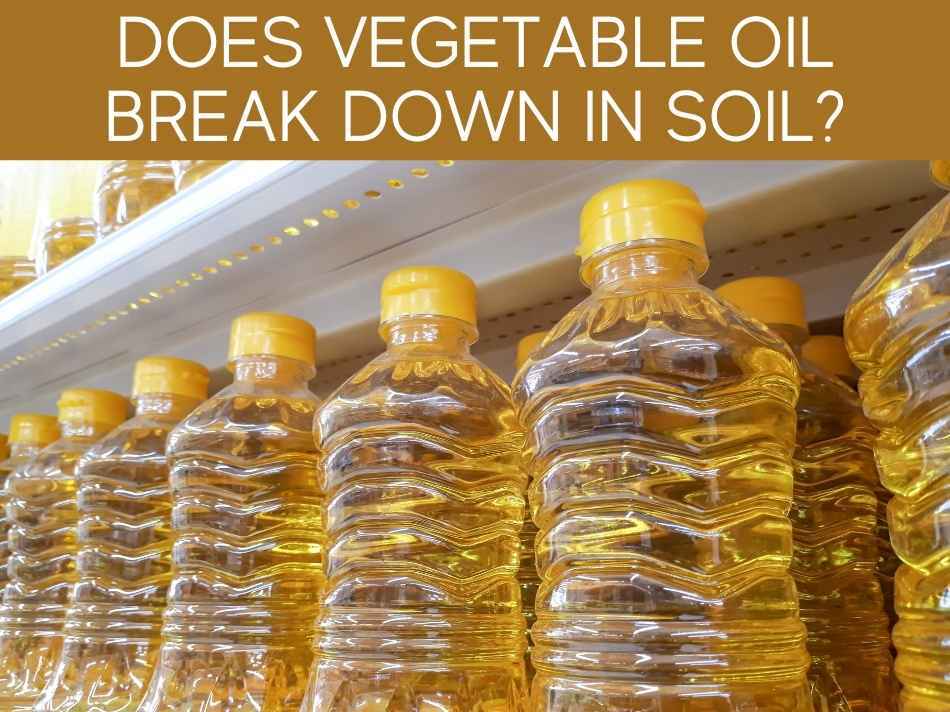 After using cooking oil, it's not a good idea to dump it in the soil.
Once you've used it, seal it off in a container before dumping it in the waste food bin along with the rest of your household garbage.
However, if you do choose to add oil to your soil, its decomposition and impact on the soil will depend on the kind of oil in question and how it has been used.
100% vegetable oil, such as that extracted from soy, corn, sunflower, coconut, and olives, can break down in the soil.
Microorganisms can, in fact, consume these natural products, decomposing them into simpler compounds.
However, excessive vegetable oil applications can hamper soil's air and water supply, reducing the number and activity of microorganisms, slowing down decomposition.
It's worth noting that we're only talking about 100% vegetable oil when stating that they can easily decompose.
Animal fat or vegetable oil that has been used for cooking meat won't decompose easily and will cause more harm to earthworms and other critters.
This is exactly why used cooking oil should always be disposed of properly.
Applying it to the soil or composting can cause more harm than good.
Does Vegetable Oil Hurt Plants?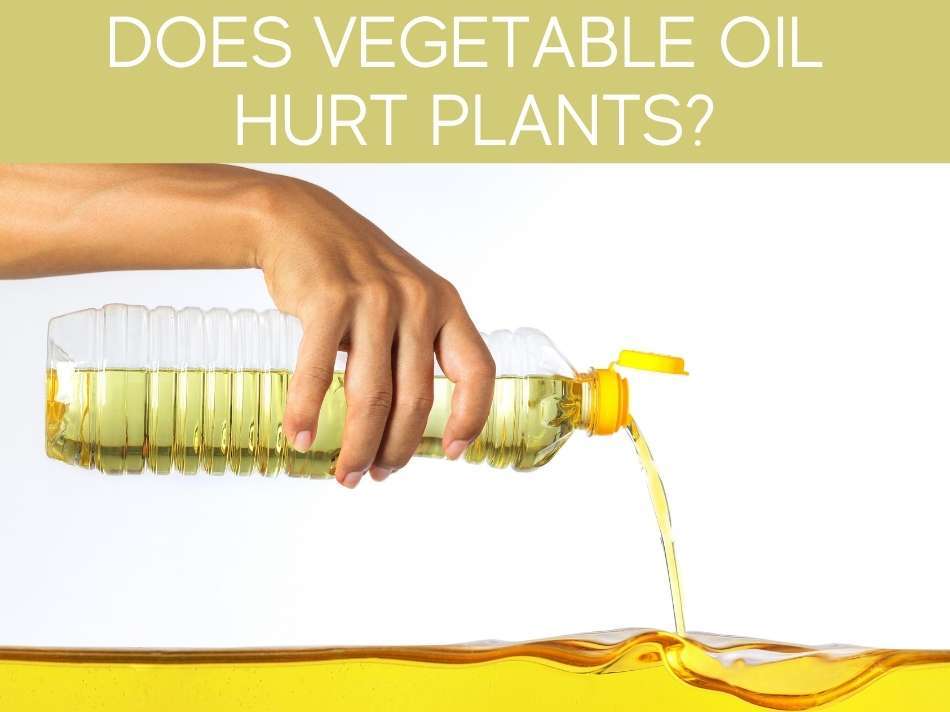 So you know that when applied in small quantities to the soil, vegetable oil can conserve moisture.
When more moisture is available to the roots, plant growth will increase.
Research has also shown that small oil levels in the soil can make certain beneficial nutrients available to the roots, which, again, improves plant health.
When applied in more than small quantities, vegetable oil may harm plants.
Other than displacing water in the soil and depleting the roots of air supply, it also slows down the activity of microorganisms, depleting the plants of essential nutrients.
Without microorganisms actively breaking down organic matter within the soil layers, nutrient concentrations in the soil will fall, slowing down plant growth.
Using Vegetable Oil As Pesticides
Plants have been sprayed with oils to ward off pests for centuries.
Can vegetable oils be used for the purpose, or will they harm the plants?
Oils extracted from plants can safely be sprayed on the plants to kill insects without causing any risks to the plants.
These oils reduce the activity of insects by disrupting their respiration and coating their feeding surfaces (leaves and stems).
Since the oil spray is easily washed away with rain, it won't have any long-lasting impact on the plant itself.
The most common pests that can effectively be controlled with oils–including cooking oils–are: aphids, scale insects, whiteflies, and mites. 
In addition, oils can help reduce powdery mildew & other fungal diseases.
Vegetable Oil As Fertilizer
So, vegetable oil in small amounts brings some benefits to plant growth.
But is it a good idea to use it as a fertilizer?
Are regular applications of vegetable oil beneficial for plants?
Waste cooking oil has been used to make slow-release fertilizer patented by Ralph S. Daniel.
In an attempt to create something useful out of waste, Mr. Daniel presented the approach to utilize waste vegetable oil as fertilizer instead of refining it.
The technique harnesses the benefits of phosphorus, nitrogen, and potassium to enhance plant growth.
With this special fertilizer created primarily out of waste vegetable oil, it is reported that rose bushes produced 15% more blooms as compared to unfertilized bushes.
However, this fertilizer is carefully created in lab conditions to diminish any harmful characteristics and render it safe for soil applications.
Adding unprocessed waste vegetable oil or new vegetable oil in large quantities can harm soi in ways that have already been discussed.
Find out if you soil might be hydrophobic (and how to fix it).
Uses For Vegetable Oil In Garden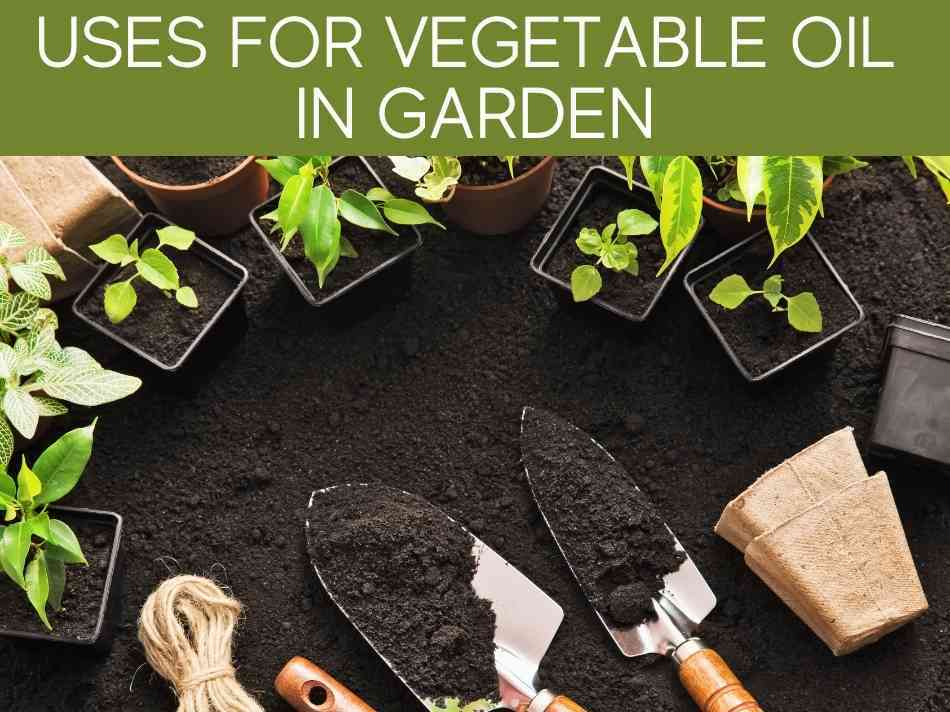 There are some ways in which limited quantities of vegetable oil can be used in the garden without posing risks to the plants or soil.
You've already seen that using limited quantities of oil in the soil can help cater to plants' moisture requirements if water is scarce.
Are there any additional uses of vegetable oil in the garden that you should know about?
Here are some useful ways in which you can use vegetable oil in the garden without harming the plants:
●  Use vegetable oil as a pesticide.
●  Use vegetable oil to make gardening tools 'non-stick.'
Pesticides:
Vegetable oil is an effective pesticide against soft-bodied insects, such as aphids, mites, and thrips.
Since they breathe through their bodies, a spray of vegetable oil will interfere with their respiration, in turn lowering their population.
Non-stick gardening tools:
An interesting use of vegetable oil is to make your gardening tools, like shovel, trowel and lawnmower, 'non-stick' so grass and soil won't stick to it while you work with them in your garden.
Lowering soil pH:
Some research has found that adding vegetable oil to soil can decrease soil pH slightly. 
So, for more alkaline soil, adding oil might help.
Check out our full article on how to lower soil pH.
Does Vegetable Oil Decompose?
So you know that vegetable oil disrupts soil's microbial activities.
In other words, it disturbs the ecosystem within the soil layers responsible for the decomposition of organic matter.
But does vegetable oil itself decompose easily?
If you've already applied vegetable oil to the soil, how long will it take before the soil can come out of its negative impact?
100% vegetable oils are biodegradable.
According to research, their biodegradation is much faster than that of mineral oils and can decompose to about 70 to 100% in 28 days.
Since it can decompose and it's natural, one might think it's OK to dump it in the compost pile.
Cooking oil should not be added to the compost pile since it reduces the population of microbes responsible for decomposition.
Other than vegetable oil, other fatty foods, such as cheese and salad dressings, are also not recommended for your compost pile.
How Does Vegetable Oil Affect Plant Growth?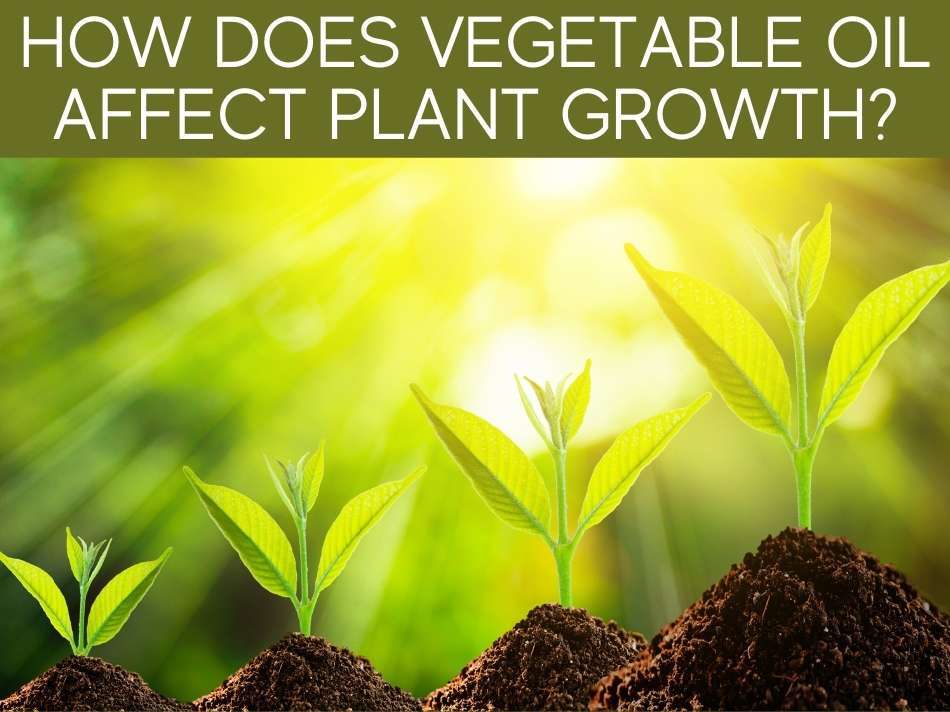 Vegetable oil offers certain benefits for the soil but can be harmful when used regularly or in excess.
But what about the plants?
Does vegetable oil also affect plant growth?
If you've only dumped a small amount of oil in your garden bed, there's nothing to worry about.
It will decompose with time as the microbes feed on it, and there's little chance that your plants will show any signs from the application.
Anything more than small quantities of vegetable oil may cut down or diminish the air and water supply to the plants' roots.
Without an adequate supply of moisture and oxygen, plants will show stunted growth and may fall prey to different diseases. 
Vegetable oil is, in fact, effective against weeds.
When you coat the weeds with a thick layer of vegetable oil, it diminishes the gaseous exchange of weeds, reduces photosynthesis, and kills them in little time.
Go ahead and kill weeds in your garden with vegetable oil, but don't ever try it out on your plants!
Spraying vegetable oil as pesticide is different (and not harmful to plants) since it does not coat the plants with a thick layer of oil.
The little oil that you spray on the plants will wear away with sun and rain.
Oh, and if you're like most gardeners, you're probably growing tomatoes–in which case, you should take a look at our full article on what soil is best for tomatoes.
Conclusion
Is cooking oil bad for soil?
Now you understand that it's not as straightforward a question as it seems to be.
It really depends on what type of oil you are using, how much of it you will work with and what exactly do you plan on using it for.
While cooking oil can harm plants and soil, there are certain ways in which it can offer some benefits.
Careful application and correct use are the key to using vegetable oil to favor healthy plant growth.