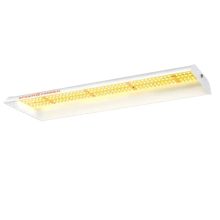 🌱 Unleash the Potential of Your Indoor Garden with the Spider Farmer SF300 LED Grow Light! 🌱
Are you passionate about indoor gardening and want to take your plant nurturing to the next level? Look no further! We've got just the thing to supercharge your plants' growth and yield – introducing the revolutionary Spider Farmer SF300 LED Grow Light!
🌞 Let There Be Light – The Power of Full Spectrum 🌞
Imagine providing your plants with the perfect blend of light across all growth stages – from seedling to flowering. The Spider Farmer SF300 LED Grow Light boasts a state-of-the-art full-spectrum design, giving your plants precisely what they need to thrive. Say goodbye to the hassle of swapping lights for different phases – this all-in-one solution has got you covered!
The Spider Farmer SF300 LED Grow Light is equipped with 192 high-quality Osram diodes, ensuring optimal light output for your plants. With an impressive PPE (Photosynthetic Photon Efficacy) of 2.3 umol/J, this grow light is designed to provide your plants with the ideal spectrum and intensity they need to thrive. The SF300 offers a flower coverage area of 2 feet by 2.5 feet, making it suitable for smaller grow spaces. Its compact size of 23.62 inches by 5.9 inches by 1.39 inches allows for easy installation and placement. Plus, this powerful LED grow light is compatible with 2×2-foot grow tents, making it an excellent choice for indoor gardeners. For optimal ventilation, a 4-inch fan is recommended to ensure your plants receive the perfect airflow during their growth journey. With the Spider Farmer SF300 LED Grow Light, you can confidently create a nurturing environment for your plants and watch them flourish like never before.
🌿 Trustworthy Quality and Efficiency 🌿
It's easy to tell that Spider Farmer takes quality seriously. The SF300 is built with top-of-the-line LED technology, ensuring exceptional performance and longevity. You can trust that your investment will pay off in the long run, season after season. Not only will your plants thank you, but your wallet will too!
🍅 From Beginners to Pros – Everyone's Favorite 🌿
Whether you're just starting your indoor gardening journey or you're a seasoned horticulturist, the Spider Farmer SF300 LED Grow Light is a game-changer for all. Its user-friendly design makes installation a breeze, and its efficient energy consumption will leave you feeling eco-friendly and guilt-free!
🌐 Join the Indoor Gardening Revolution 🌐
With the SF300 at your disposal, there's no limit to what you can achieve in your indoor garden. Experience the joy of watching your plants flourish and blossom right before your eyes. Join the countless happy growers who have already unlocked the full potential of their indoor spaces with Spider Farmer.
🛍️ Get Yours Today! 🛍️
Ready to transform your indoor garden into a vibrant, flourishing paradise? Don't miss out on this opportunity! Head over to our website and grab your very own Spider Farmer SF300 LED Grow Light now. Take the first step towards being a proud plant parent and watch your green thumb skills soar to new heights!
🌟 Don't wait – click here to get your SF300 LED Grow Light and start your indoor gardening adventure today: 🌟
Use COUPON CODE: michaelmurphy for an extra discount at checkout!
[Disclaimer: This blog post contains affiliate links. By making a purchase through these links, you help support our site at no extra cost to you.]