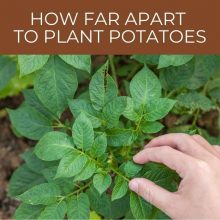 The spatial considerations are extremely important when opting to plant rows of potato plants. The gardener may need to take into consideration quite a few things before taking this journey.
Plant potatoes 12-15" apart in rows roughly 3 feet apart. If planted too close to each other, potato plants will compete with each other for nutrients & likely attract insects, weeds, and other unwanted organisms. 
The first step is to decide which variety of potato plant will be planted and what is the ideal time of year to plant this type of potato. As well as how that specific location may affect the growth of this plant. 
See our complete guide to growing potatoes.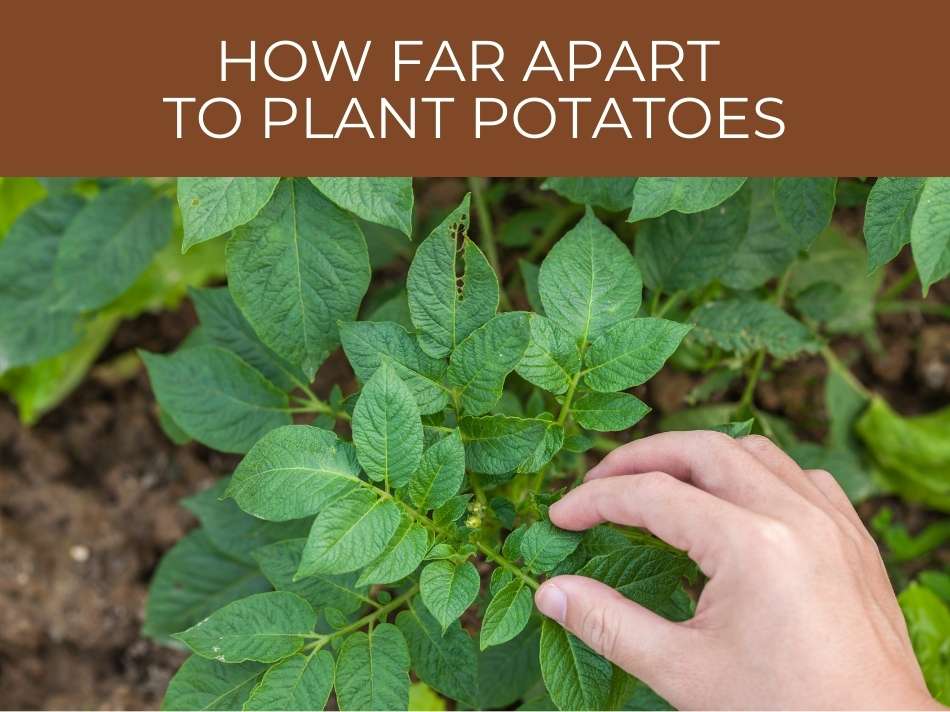 How far apart to plant potatoes
There are a few considerations when deciding on the space between potatoes in the soil. 
This consideration focuses on the type of potato that you will be planting and the type of gardening you will be doing. For larger potatoes, you may need more space for the potato to grow. In addition, potatoes need sufficient room in which to grow.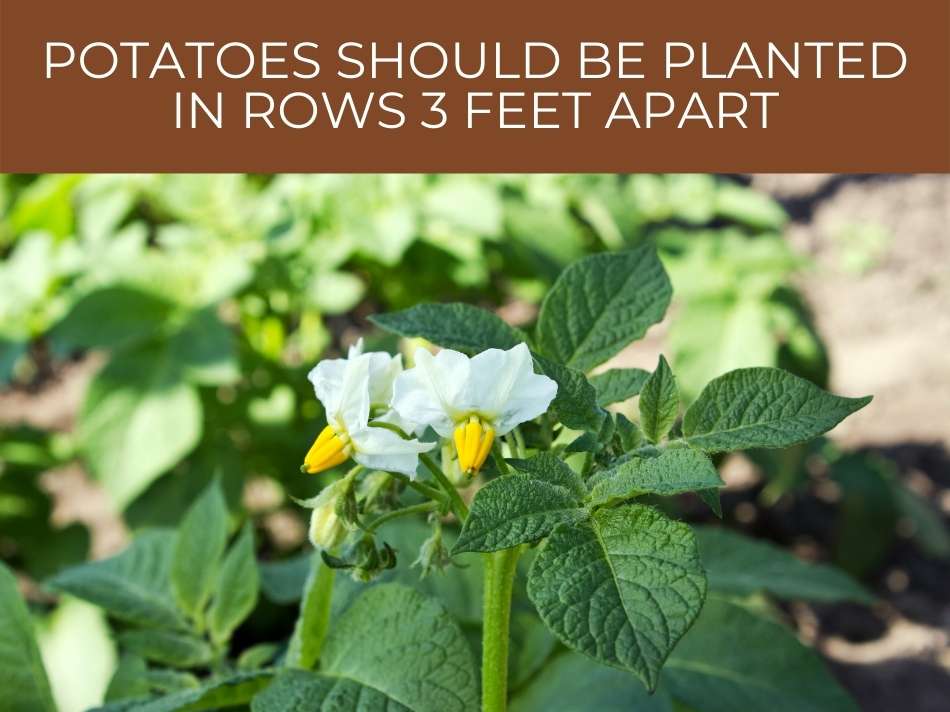 Potatoes should be planted in rows 3 feet apart. Potatoes should be planted with the cut side of the potato pointing down into the ground while the eye of the potato is pointing up at the sky. Potatoes should then be planted approximately 12 to 15 inches apart. 
If you are limited on space or would only like to grow baby potatoes, then the spacing between the potatoes can be reduced. 
Planting potatoes too close together will prevent the potatoes from reaching their maximum potential and will force the plants to compete for soil nutrients. 
Furthermore, planting potatoes with plenty of space between plants will prevent weeds and pests from attacking plants that grow too closely to each other. 
See out tips for growing baby potatoes.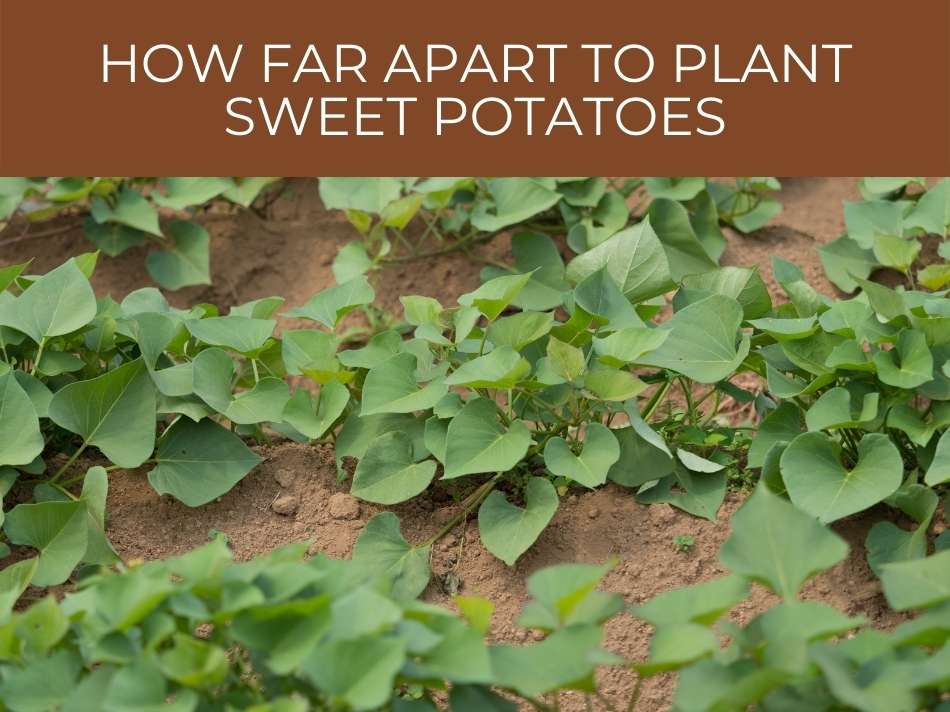 How far apart to plant sweet potatoes
Sweet potatoes grow fast and aggressively. So much so, that these vegetables will grow if you accidently drop seeds in soil that is warm and moist. 
The vines of these plants need a lot of room to run. 
Sweet potato plants need to be spaced about 12 – 18 inches apart. This is because these starchy root vegetables spread quickly & compete with each other for soil nutrients if they are planted too close to each other. Rows should be 3 feet apart.
If the roots have sufficient space to grow and the plants are watered regularly, the sweet potatoes will flourish.
If the sweet potatoes are planted too closely to each other, it may inhibit their growth and prevent these root vegetables from reaching their full potential.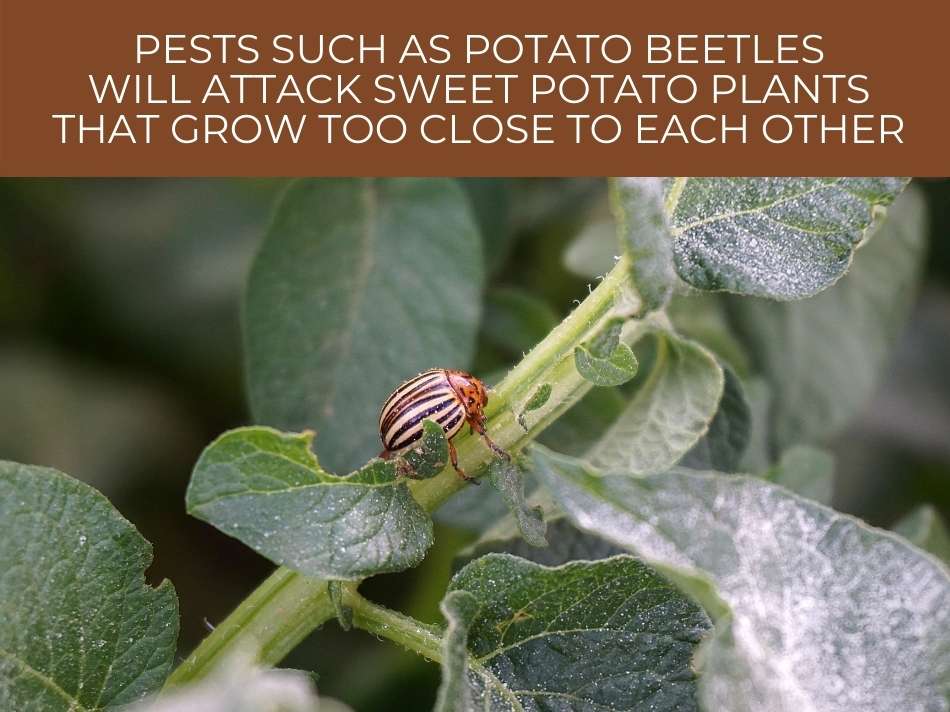 In addition, pests such as  potato beetles and weeds will attack sweet potato plants that grow too close to each other. 
See our tips for growing sweet potatoes. 
How far apart to plant seed potatoes
There is a difference between the potatoes that you purchase at the supermarket and the ones you may purchase at a nursery. Both these potatoes are tubers but there is a key difference: seed potatoes are disease-free, and based on United States Department of Agriculture standards. 
Plant seed potatoes 12 – 15 inches apart, and about 3 inches deep, in rows roughly 3 feet apart. Cut the potato into smaller pieces, preferably the size of a golf ball. Place the potato seeds in the ground with the cut side facing down and the sprouts on the potato looking up.
These potatoes prefer loose and well drained soil.
The soil should ideally be acidic, ideally with pH 4.8 – 5.5. 
The soil should be nutrient rich by adding high quality, well-aged manure or compost. 
These plants prefer cooler days and, as such, the ideal time to plant these vegetables is St. Patrick's Day. 
Find out if potatoes are a fruit or vegetable.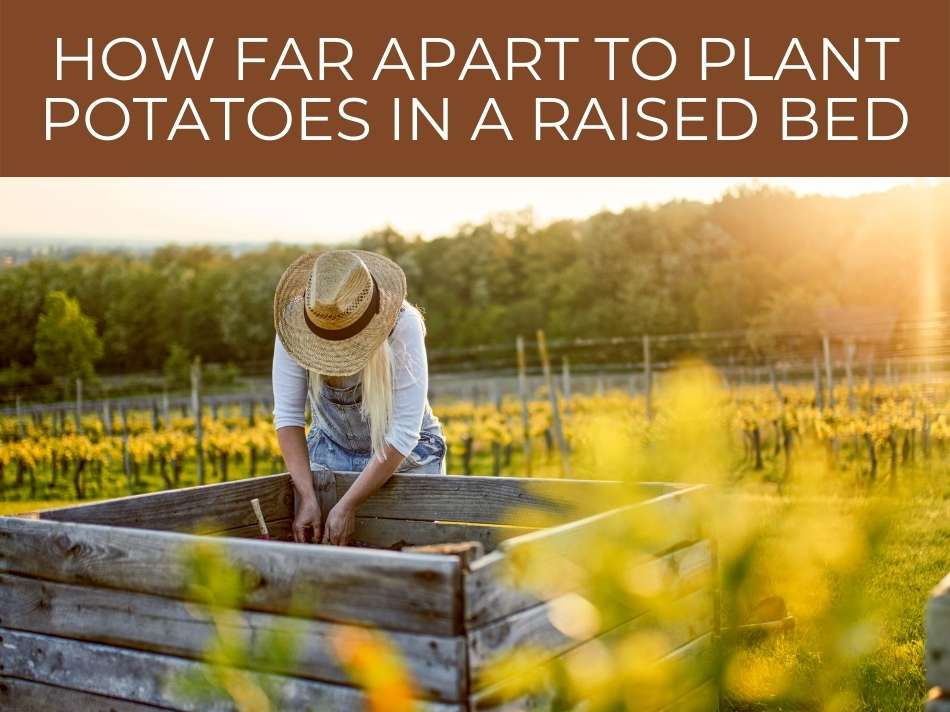 How far apart to plant potatoes in a raised bed
Raised beds are ideal for the home grower who would like to see greater results while having more control over the growth cycle of these seed potatoes. 
Potatoes may be planted 12" apart in all directions: 1 plant per square foot. Make sure that the soil at the bottom of the raised bed is loosened properly. Plant potatoes 3 inches deep. During the growing season, add more soil to the raised bed as needed. 
The raised should preferably be 12 inches deep. In addition, the planter should be filled with a mix of soil, good planter mix, and only filled to roughly six inches. As the potatoes start to grow, you may want to add soil/compost to the container. 
Furthermore, these plants should have a minimum of four to six hours of direct sunlight every day.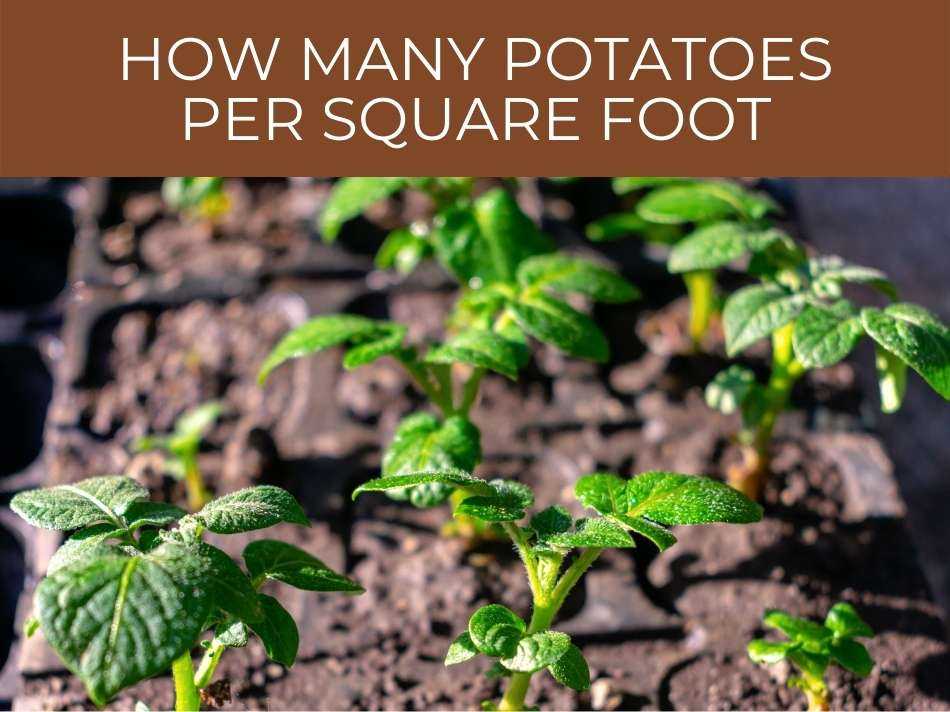 How many potatoes per square foot
Potatoes are an essential crop to grow and a food source. In addition, you can grow more potatoes in a much shorter time using much less land than any other type of vegetable.
Square foot gardening refers to breaking up a garden into square foot sections and growing a specific vegetable type in each square foot. 
In square foot gardening, new or young potatoes can be grown 4 plants per square foot. For larger varieties, plant only 1 plant per square foot; allowing ample space between plants ensures they don't compete for nutrients. 
Gardeners must first remove the soil and add a good quality compost mix to the container. 
Then plant the potato pieces with the cut side facing down and the potato eyes facing toward the sky. The bottom layer should consist of two inches of compost followed by an additional two inches of compost placed over the potatoes. 
See if plants can grow without soil.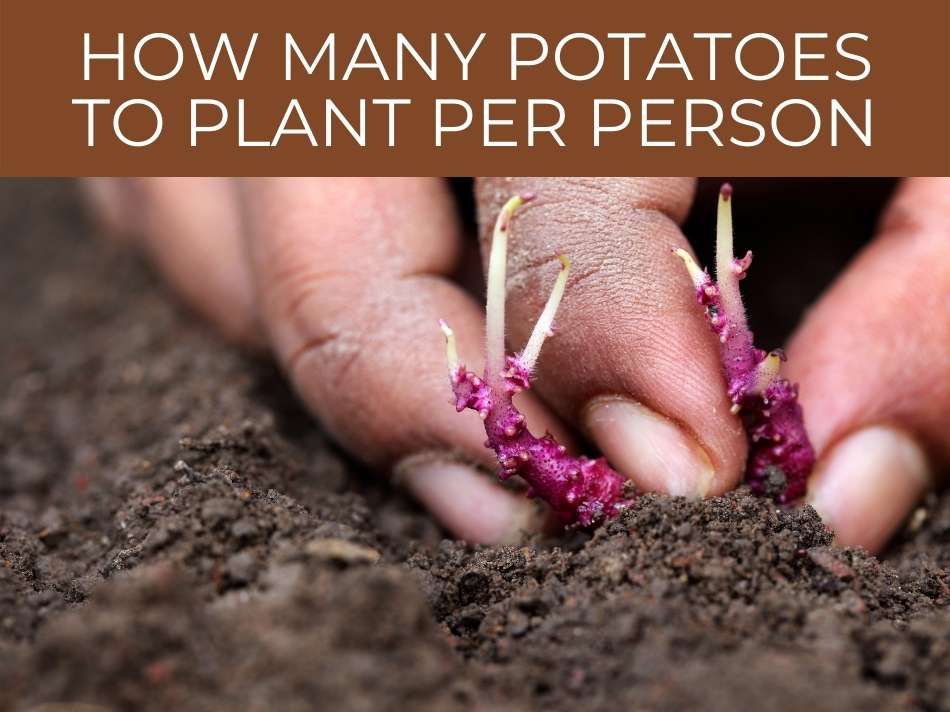 How many potatoes to plant per person
If you are looking to find out how many potato plants you need to plant per person, then it is important to note and identify what these potatoes will be used for.
For example, if you are trying to stock up on potatoes and need to know how much you will need to plant, you simply need to look at the type of potato plant and consider how much time you are willing to invest in the growth and development of these plants. 
To have a year's supply of potatoes, plant 5 – 10 rows about 40 feet long of potato plants per person. Each plant should produce 5 – 10 potatoes, or roughly 3 – 5 pounds per plant. Yields will vary depending on growing conditions and potato variety. 
How much the plant is watered and how often the weeds are removed will play an important role in determining how much each plant will yield.
Find out when to harvest potatoes.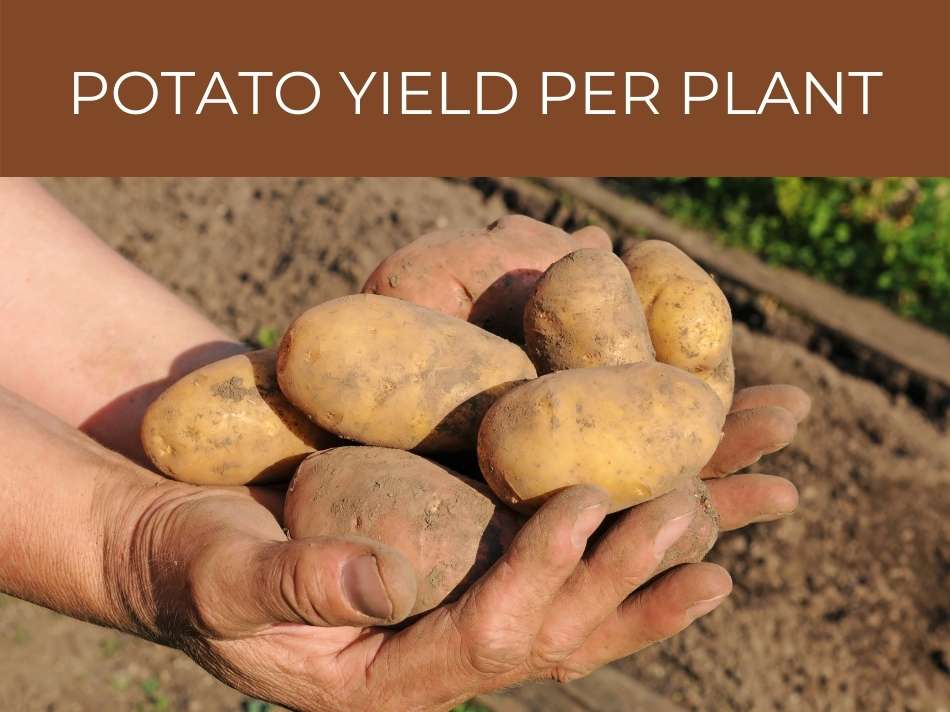 Potato yield per plant
There are a variety of factors that may determine how much yield you will receive from each plant. 
For example, the type and amount of care invested in the plant will have a direct influence on the yield of the plant. 
The potato plant will yield different amounts depending on the variety of plant & growing conditions. Each plant may produce 5 – 10 potatoes, or roughly 3 – 5 pounds. There should be 2 to 3 small and large potatoes each, as well as 6 to 8 medium sized potatoes.
In addition to this, all other conditions should also be met, such as the time of planting, whether the plant received sufficient or a lack of water, if the ground was properly cultivated and whether the potatoes were grown in soil or buckets containing soil.
Furthermore, potatoes grow best in acidic soil conditions with pH between 4.8 – 5.5.