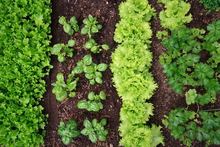 Nearly every garden has more than one kind of plant–but do all those different plants get along well together? Do some plants actually help other plants grow better? Or do some plants hinder others nearby? Welcome to the world of companion planting!
Companion planting is when plants are planted in close proximity to each other for specific benefits. Some plants may complement others in various ways: nutritional benefits (e.g., nitrogen fixation), deterrence (or distraction) of pests, attractiveness to pollinators, or weed suppression.
A simple analogy to help understand companion planting
Companion planting is a gardening method of deliberately planting different types of plants near each other, so that one or both plants benefit from the arrangement. 
I'm a teacher and a gardener, so I can't help but think of a teaching analogy here. When I make a seating arrangement for my students, I know that students have an influence on each other. A seating plan is something to be carefully considered! 
Companion planting, essentially, is paying attention to who your plants sit beside. You want your plants to bring out the best in each other. 
Does companion planting actually work? 
Good question. 
If the answer is no, then we might as well stop the discussion here. 
However, I would argue that the answer is yes. 
The truth is that, compared to how much information you can find on companion planting, there is very little proven scientific evidence for companion planting. 
This is because little research has been done. So the lack of hard scientific data doesn't mean that companion planting doesn't work, but just be warned that a lot of companion planting claims are based on anecdotal evidence. 
For millennia, humans have known that certain plants benefit each other.
A famous example is "The Three Sisters" – maize, winter squash, and climbing beans – grown together by Indigenous peoples in North America. 
For most of human history, people have grown a variety of food to meet the needs of their households. Sweeping fields growing just one crop, combed by huge machinery, is a pretty new development. 
Around the world, many people are still closely tied to producing a variety of food for their own consumption. 
I consider the sheer history of companion planting to be significant evidence. A lot of cultural and historical wisdom contains seeds of scientific truth, even if science hasn't gotten around to proving it yet. 
Secondly, there are some specific companion planting scenarios that have been tested scientifically (like this study, on the effects on pest resistance by specific companion plants). 
Even though a lot of companion planting wisdom has not undergone rigorous scientific study, it can still yield results. As you experiment, however, keep in mind that most claims are not proven. Keep a careful record of the results you have noticed in your own garden, and let that guide you for future seasons. 
What garden plants grow well together? 
Different plants complement each other for different reasons. 
Some keep away pests for the other plant, some provide nutrients in the soil that another plant needs, some provide a structure for another plant to climb or ground cover to prevent weeds. 
Generally, you don't want to have your plants competing for resources – sun, space, or nutrients. 
At the end of this article, you'll find a chart of specific plants that make great companions!
What flowers should NOT be planted near vegetables? 
Flowers can be an excellent way to increase your vegetable garden yield. They promote biodiversity, attract pollinators, build soil fertility and structure, and can deter pests. 
Plus, they look lovely! Some common flowers recommended to plant in a vegetable garden are: borage, calendula, marigold, California poppy, lavender, German chamomile, cilantro, nasturtium, and sweet alyssum. 
However, you should also take the time to research native flower species in your specific region. 
These will grow most easily in your soil and climate, they will be most effective at deterring pests in your region, and they will be most familiar to the pollinators in your region that you'd like to attract. 
Plus, you will be promoting local biodiversity. That's a win! 
What plants should not be planted next to each other? 
Generally, you want to avoid planting two kinds of plants beside each other if they are going to compete for resources such as sun, space, or nutrients. 
Some plants actually release chemicals that can inhibit the growth of their neighbors. 
At the end of this article, you'll find a chart of common garden plants and a corresponding list of plants that they don't get along with! 
Benefits of companion planting:
Reduced need for insecticides
If one plant deters "bad bugs," distracts "bad bugs," or attracts "good bugs" (usually the ones who eat the bad bugs), there is less need for the gardener to intervene and use insecticides. 
"Trap cropping" is a method of deliberately attracting pests … to something besides your main crop! 
Planting something in the same family, but something that is more attractive to a pest, will help keep them away from what you really want to harvest. 
Tricky gardeners! 
For example, collards can lure the diamond back moth away from cabbage.  Another example is planting nasturtiums to attract aphids. Beat the pests at their own game!
Some plants provide habitat for "good bugs." For example, several herbs – dill, basil, cilantro included – can be planted to attract predatory insects such as ladybugs, lacewings and predatory mites. These will help keep pest populations in check. 
Generally, a monoculture (a garden growing just one thing) is far more susceptible to pests. 
A diverse garden, however, confuses pests with the different colors and scents. It's less of a ready-made platter of their one favorite thing. 
Better pollination
If you add plants to your garden that attract pollinators, those pollinators will likely take notice of the other garden plants you have. For example, nearby clover can attract bees to your garden area. 
Deterring other garden pests
Plants with strong scents can discourage animals from eating fruits and vegetables planted nearby. Rosemary, lavender and mint are a few examples of "scent-tries" that can guard your garden (sorry for the pun, couldn't help it). 
Some plants leave specific chemicals in the soil that deter pests. 
When people think of companion planting, a classic example that often comes to mind is the strategy of planting marigolds near vegetables to deter animals from eating the vegetables. 
Scientific study hasn't really backed this up, however. 
What science has shown is that the roots of marigolds can indeed produce a bacteria that deters detrimental organisms in the soil. 
However, these chemicals are only released after marigolds have been grown in the soil, have died, and their roots have been tilled back into the soil. 
Building soil nutrients
Plants need nitrogen, but not all plants are able to add nitrogen to the soil. There is a lot of nitrogen in atmosphere, but it is not accessible to plants. 
Legume plants – beans, peas, clover – harbor bacteria in their root nodules that are capable of the "nitrogen fixing" trick. 
Putting these plants in your garden naturally builds – or replenishes – the nitrogen levels of your soil. This leaves nitrogen that is accessible for all plants, not just the ones with nitrogen-fixing bacteria. 
Find out how much sun peas need.
In general, certain plants take certain nutrients from the soil. 
If you grow the same one plant variety, over and over, in the same spot, each plant is sucking up the same type of nutrients. 
If you incorporate variety in your garden, however, you'll have plants with different nutrient needs, or plants that actually return nutrients to the soil. 
Using space well
Some plants grow tall, some take a lot of ground cover. 
Mixing up your plants can help you get the most out of your garden space. 
For example, if you plant climbing beans near squash plants, by the time the squash is sprawling, the beans are tall enough to reach up above them for sun. 
These layers of height make for an attractive garden at the height of your growing season, and are an excellent use of small spaces. 
Water conservation
Diversity improves your soil, and healthy soil retains water much more effectively. 
Growing plants that cover the ground and provide shade, such as squash, also prevents water from evaporating. 
Providing support or shade for each other 
"The Three Sisters" were such a fantastic trio partly due to this reason as the tall, straight corn provided support for the climbing beans. 
Sprawling, strong plants such as squash can shelter more delicate species from pests, weeds and wind. 
When considering companion planting, it's important to keep in mind how the plants grow as the season progresses. 
For example, planting broccoli and lettuce together becomes particularly beneficial later in the season. By the time the broccoli is large enough to provide shade cover, the season has progressed into the heat of summer and the lettuce actually benefits from that shade. This can increase the growing season of lettuce. 
Minimizes growth of weeds 
Plants that provide dense ground cover deter pesky weeds from popping up. An example, already mentioned, is squash. 
Aesthetics 
Diversity is beautiful. If you want a garden to look more like a bursting bouquet, with layered heights and colors, companion planting is an excellent way to achieve this. 
Growing for cooking 
The main reason I garden is because I enjoy growing food (my husband is the flower gardener of the family). I don't need four garden beds full of one type of zucchini. 
Companion planting allows me to grow more variety in my space, which is what I want in my kitchen. A classic example is growing tomato and basil together. 
Not only do these plants benefit each other, but their tastes complement each other well in countless recipes. 
Diversity is king! 
In nature, diversity is king. Diversity is strength. 
Look around the next time you're on a hike. Mother Nature seems to be able to juggle an infinite number of balls. 
Even things that appear to be one thing – such as grasses – are actually many different species if you look closely. 
Mimicking nature by having variety in your garden has immense benefits. 
A polyculture is when multiple crops are grown in the same space. A monoculture is when only one crop is grown in a space. 
Historically, gardeners and farmers knew the importance of diversity. 
They understood how plants interact with each other, and how these natural qualities can be leveraged for the gardeners' benefit. 
Ancient farmers in the Near East used crop rotation methods to preserve and replenish the nutrients in the soil. The Indigenous peoples of North America created beautiful legends around the wisdom of "The Three Sisters."  
Modern agriculture and monoculture concerns
Modern science, however, seemed to offer a loophole.
 Disease-resistant, genetically modified super-plants could be protected by chemicals. Soil could be boosted by scientific formulas. Even crop rotation – seen as absolutely necessary only decades ago – has become optional. 
Or has it? 
The answers of science now have some criticism. People are skeptical. 
Some solutions appear to be unsustainable over the long-term. There are serious concerns about the environmental impact of the chemicals used to support large-scale monocultures. 
Scientists and journalists point out that even our knowledge of soil is very limited, and regions of rich soil – once seen as a bottomless resource – are now realizing the consequences of monoculture farming. 
For some of us, a discomfort with modern monoculture methods is sparked when we start growing food in our own backyards. 
Sure, I buy produce at the grocery store that is genetically modified and doused with chemicals, but … in my own backyard? Where my kids play? Hmm… aren't there more natural options? 
Gardening forges a connection between people and food, and that connection makes us consider a whole lot of "big picture" questions. 
There is a swinging pendulum, and a growing interest in returning to the old knowledge of how to work with nature to maximize yields. Increasingly, people are asking how we can nourish the soil even while we nourish ourselves. 
Companion planting keys to success
If you are interested in companion planting, here are a few general tips. We'll get into specifics – a chart of plants that get along well together – later. 
Avoid competition for nutrients
Plants need different things out of the soil. Some plants are "heavy feeders" that take up a lot of nutrients. Other plants give back nutrients. Keep these characteristics in mind when planning your garden. 
Avoid competition for space
When you're planting your seedlings in spring, and your garden appears so orderly and bare, it's hard to envision how it will look in several months, when everything is sprawling and climbing and blossoming and bursting with life. (Beautiful, isn't it?) 
Refer to seed packets or to "square foot gardening" guidelines to get a sense for how much space each mature plant will need at different points of the growing season, and plant accordingly. 
Avoid competition for sun 
Again, you need to think about this in terms of the entire growing season. 
Many a gardener has put two plants beside each other, and in a few months kicked themselves as they realize that one plant is completely blocking the other from needed sunlight. 
Take time to note which direction the sun will be shining during the growing season, to avoid having large plants cast shadows on smaller ones. 
This year, for example, I had the bright idea to plant several herbs in a perfect little spot at the end of my garden bed. Cute! But … that perfect spot happened to be beside my rhubarb. The rhubarb appeared demure and cooperative when I first planted my herb seeds. Then it transformed into an obnoxious, greedy thing with enormous leaves! 
I was annoyed at myself for not thinking ahead – those giant rhubarb leaves were a canopy over my sun-loving herbs. Let's just say … despite my attempts to keep the rhubarb in check, the herbs did not flourish this year. 
In general, you're looking for plants that have different needs, not plants that will be fighting over the same resources. 
Companion planting myths
Companion planting is worth the extra effort. 
It really is. 
Because in the long run, that extra planning means less work when it comes to pests, weed control, nurturing soil, etc. 
However. 
Be aware of a few things.
First, be aware of unreliable information. As I mentioned above, companion planting has a long, rich history but very little rigorous scientific research behind it. Controlled experiments haven't been done to really isolate cause and effect relationships between plants. 
An example is the supposed wisdom of planting marigolds to deter critters from munching on vegetables. 
Marigolds do deter pests – scientists have proven that their roots produce a chemical that deters a tiny worm-like organism – but this chemical is released into the soil after the marigolds have died, and roots have been broken down. 
Although not proven, a lot of wisdom around companion planting can have merit and may yield benefits.
Just adjust your expectations, and experiment with your own garden. 
Track your successes and failures. Find what works for you. 
Look at the evidence.
Even if something hasn't been proven to work, such as the marigold theory, it is likely that it doesn't do harm. So plant those marigolds! Just don't expect them to solve all your problems. 
At the very least, you've added biodiversity to your yard. 
Companion planting combinations to avoid
There are some plants that will negatively influence each other. (Sorry, but my teacher brain is going straight back to the seating arrangement analogy. I have seen it happen in students, and it can certainly happen in plants!) 
Getting the group dynamic right can be tricky, with people and plants. 
For example, planting onions beside nitrogen-fixing plants (beans, peas) seems to have a negative effect. 
Researchers suspect that the bacteria-killing qualities of onion tend to kill off nitrogen-fixing bacteria that these other plants need. 
When you read accusations of a plant's evil influence on other plants, remember my previous point. 
These "facts" have no yet been proven by science. All plants are innocent until proven guilty! 
Some gardeners mistakenly plant "incompatible plants" beside each other, and are relieved to find that they have no problem. 
Quick guide to companion plants
Here's a chart of common garden plants to help you out as you plan to take advantage of companion planting!
Plant

Keep Close

Keep Apart!

Asparagus

Tomatoes

Parsley

Basil

Onions

Garlic

Potatoes

Beans

Carrots

Cabbage

Cauliflower 

Corn

Cucumbers

Rosemary

Leeks

Garlic

Peppers

Chives

Onions

Sunflowers

Cabbage

Celery

Beets

Onions

Spinach

Chard

Dill

Strawberries

Cauliflower 

Tomatoes

Broccoli

Carrots

Peas

Lettuce

Onions

Rosemary

Tomatoes

Dill

Parsnip

Radishes

Corn

Potatoes

Beans

Peas

Pumpkins

Radishes

Sunflowers

Cucumbers

Squash

Tomatoes

Cucumbers

Beans

Corn

Peas

Sunflowers

Radishes

Potatoes

Aromatic herbs

Lettuce

Carrots

Radishes

Strawberries 

Cucumbers

Broccoli

Onions

Beets

Carrots

Lettuce

Cabbage

Beans

Peas

Sage

Peppers

Basil

Coriander

Onions

Spinach

Tomatoes

Beans

Kohlrabi

Radishes

Peas

Nasturtium

Lettuce

Cucumbers

Hyssop

Spinach

Strawberries

Fava beans

​

Tomatoes

Onions

Nasturtium

Marigolds

Asparagus

Carrots

Parsley

Cucumbers

Basil

Spinach

Thyme

Potatoes

Fennel

Cabbage

Cauliflower

Kale
Summing up
Time to mix and match! 
Hopefully this article has helped you understand what companion planting is and how you can use it in your garden. Have fun planning a beautiful, functional garden space that benefits all your plants!