The desire for local fresh food has given a boost to the practice of home gardens, and raised beds are a popular option–especially in areas with naturally occurring rocky soil or in small spaces. There are different materials kinds of wood and other materials, such as cinder blocks & metal tanks that you can choose from when building these raised garden beds. Is Douglas fir also an option? 
Yes, you can use Douglas fir for building raised beds in your garden. Given its resistance to rot, Douglas fir is a durable wood, and can last as long as 10 to 15 years before needing replacement. Douglas fir is also one of the cheapest of the types of wood for building raised garden boxes.
There are some clear advantages to using Douglas fir for raised beds. First is its affordability, but there are other reasons as well. This article explores some of the traits that you should consider before using Douglas fir for the raised beds in your garden.
Douglas fir is abundant & sustainable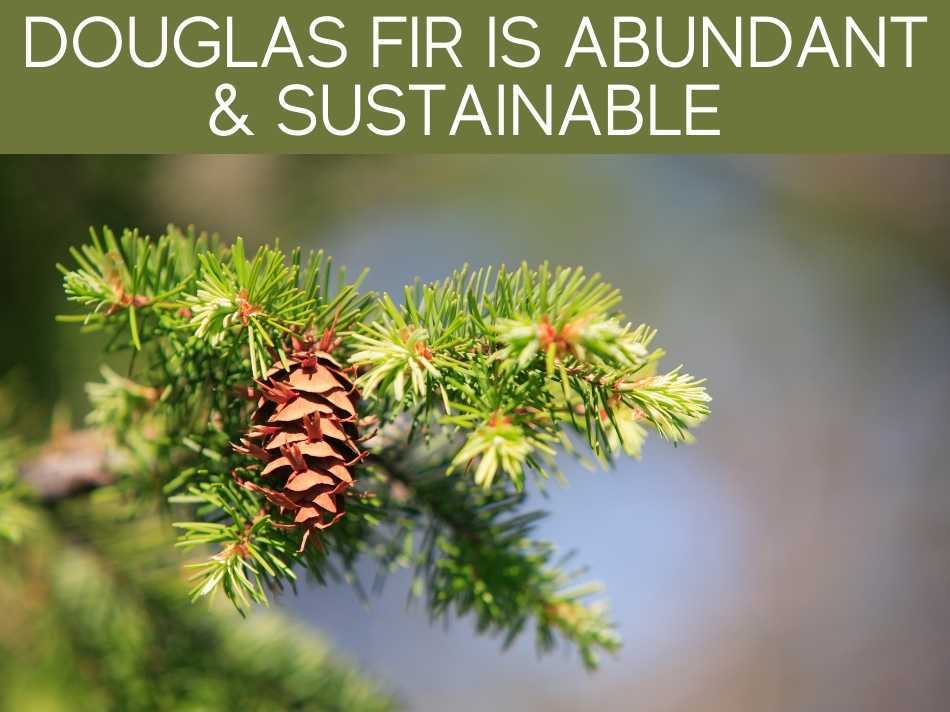 It has become increasingly common for people to choose locally sourced and sustainable materials for their homes and gardens. Douglas fir forests can be found throughout the western coast of the United States. They are resilient as they can regrow after major events like timber harvests and wildfires. Using Douglas fir is not only environmentally friendly but is easy on the wallet too.
Douglas fir is durable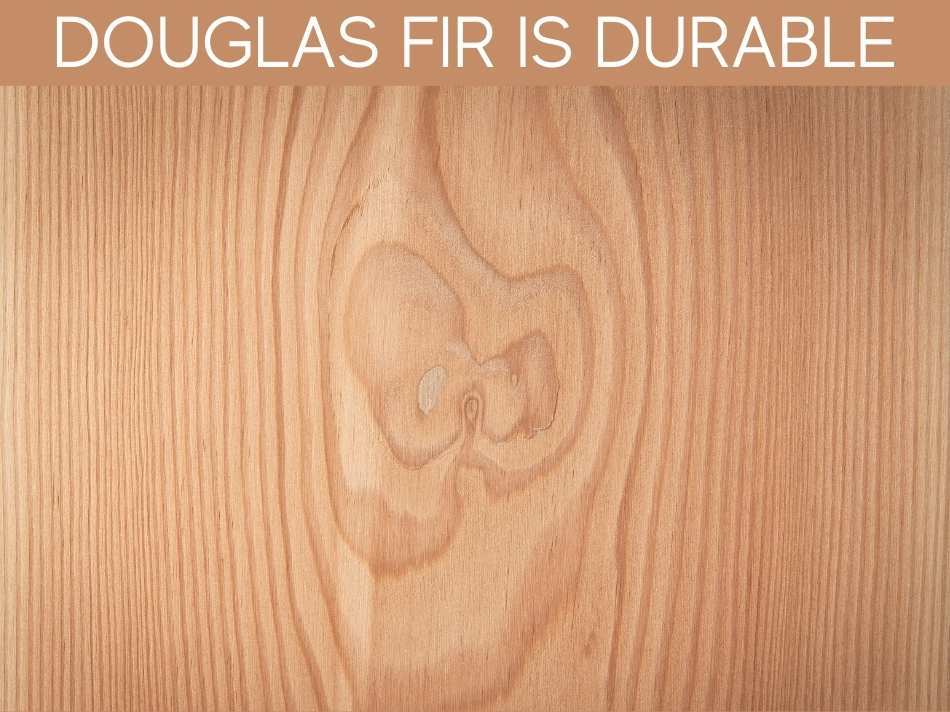 For raised garden beds, Douglas fir wood is a very durable material. They last from five to seven years as a raised bed. The moderate lifespan of the Douglas fir allows the gardener to change things up a bit every few years, or even moving houses without being guilty of wasting lumber.
Douglas fir is an affordable option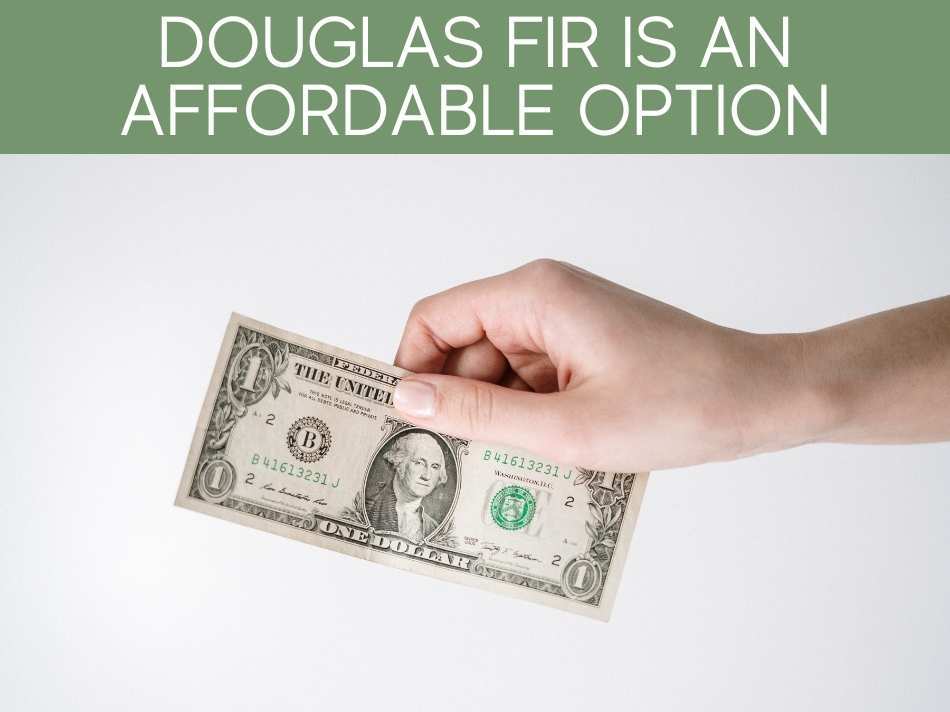 Douglas fir boards cost almost a third less than the other options available in cedar and redwood. There are several grades of Douglas fir available. The most cost-effective one is a mill-run grade that helps create tight knots in the wood. Tight knots ensure that the wood does not break open and create holes. 
Although you may need to replace boards made of Douglas fir sooner than the other ones, replacing Douglas fir boards will still be less expensive than any other lumber that is as durable as the Douglas fir.  
These Construction Douglas Fir Board Stud Wood Lumber can be used to make raised garden beds in your home. They are not only affordable, but they also add beauty and structural integrity to your garden.
Naturally Rot Resistant
Douglas fir are naturally resistant to garden rot as the resins in this species help the trees to defend themselves against decay and pest infestations. The lumber sawn from this species will retain these desirable qualities making the Douglas fir rank higher in terms of return on investment.
Douglas fir fares better vs. other woods & materials
There are many options for building raised garden beds available in the market today. While a cinder block is cheap and durable, it is heavy to lift and can hold heat. Retaining heat is probably a good thing in a winter garden, but for a summer garden, it does more harm than good to your plants.
Garden beds made of rocks are heavy to lift and work with. They will also require frequent maintenance, so that weed and grass do not make their way in. Among the other options, steel, concrete, and galvanized metal tanks can be very expensive. Galvanized metal containers and steel containers also tend to rust over time and are not ideal for growing edible vegetables.
Pressure-treated wood may seem like a great choice too as it is readily available and can survive for years in the ground or in situations where it is constantly wet. However, pressure-treated wood contains heavy metal chemicals that are used to treat the wood to make it rot resistant and resistant to bugs and decay. These toxins will leach into the soil and be harmful to the plantings that you are growing in that soil.
In wood, there are some options such as cedar and redwood that last for more than ten years. Even though the Douglas fir does not last as long as ten years, it is a third less expensive than the other options available in wood. In Europe, Douglas fir is considered to be tougher and more drought resistant than its other alternatives.   
Douglas fir raised beds look great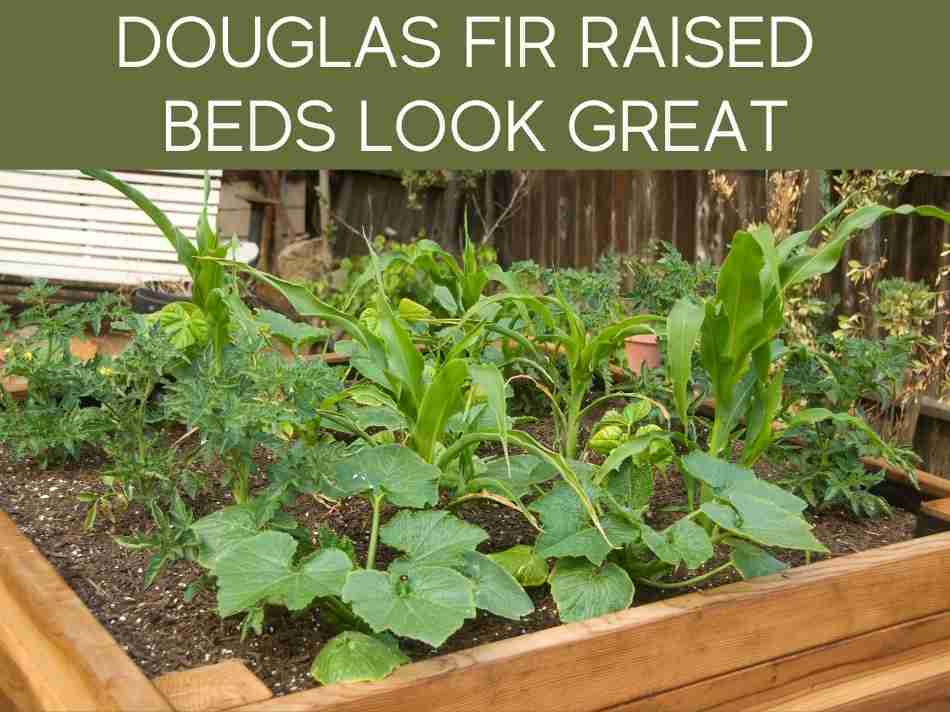 Douglas fir are tall, beautiful conifers that grow along the Pacific Northwest coast. The tree looks like a tall and slender triangle. It adds elegance and beauty to the landscape in which it grows. Young Douglas fir are often used as Christmas trees. 
The straight trunk of a fully grown Douglas fir can be as much as four feet in diameter and sometimes even twice that wide. The lumber produced from these trees looks sturdy and beautiful as well.
Douglas fir is a product of nature; therefore, variations in grain and color do exist. This becomes apparent in the lumber that is cut out from these trees. The variation in color and grain also adds to the aesthetic beauty of the wood. In a garden, raised beds made of this wood will only add to the garden's beauty.
How long do Douglas fir raised beds last?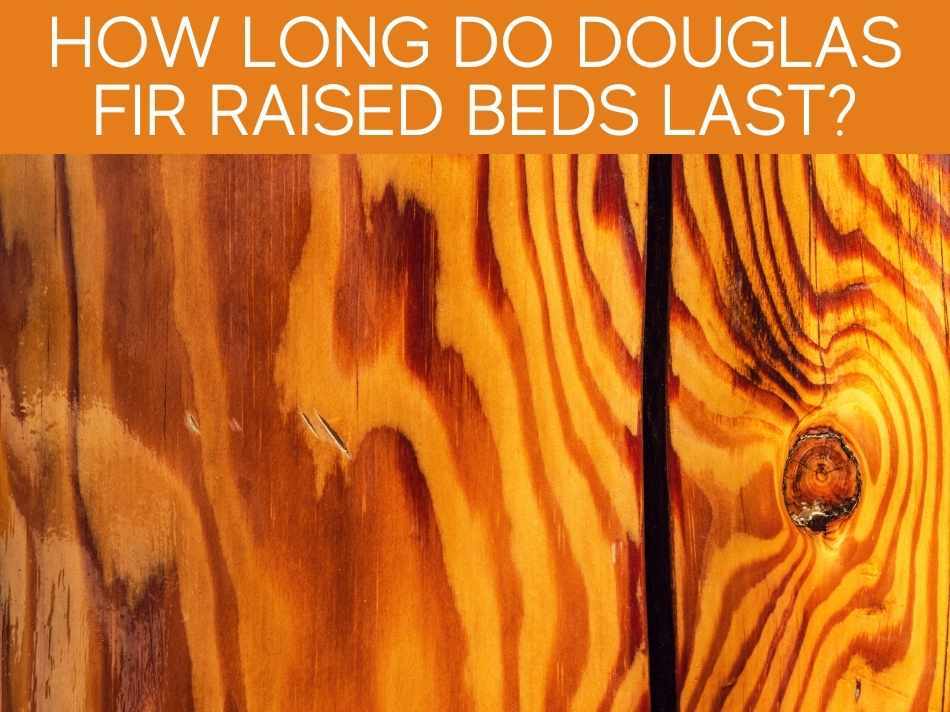 Generally, Douglas fir raised beds can last 10 to 15 years. However, the longevity depends on your climate, and other factors–chiefly, how wet the wood gets and for how long.
For example, in New Mexico where I live, we're technically in a desert–which means we get roughly 10 inches of rain or less per year. Compare that to, say, the Pacific Northwest, where some places can get 100 – 200 inches of rain per year. So, chances are that Douglas fir raised beds are going to last several years longer in the dry Southwest than the Pacific Northwest.
How to make Douglas fir raised beds last longer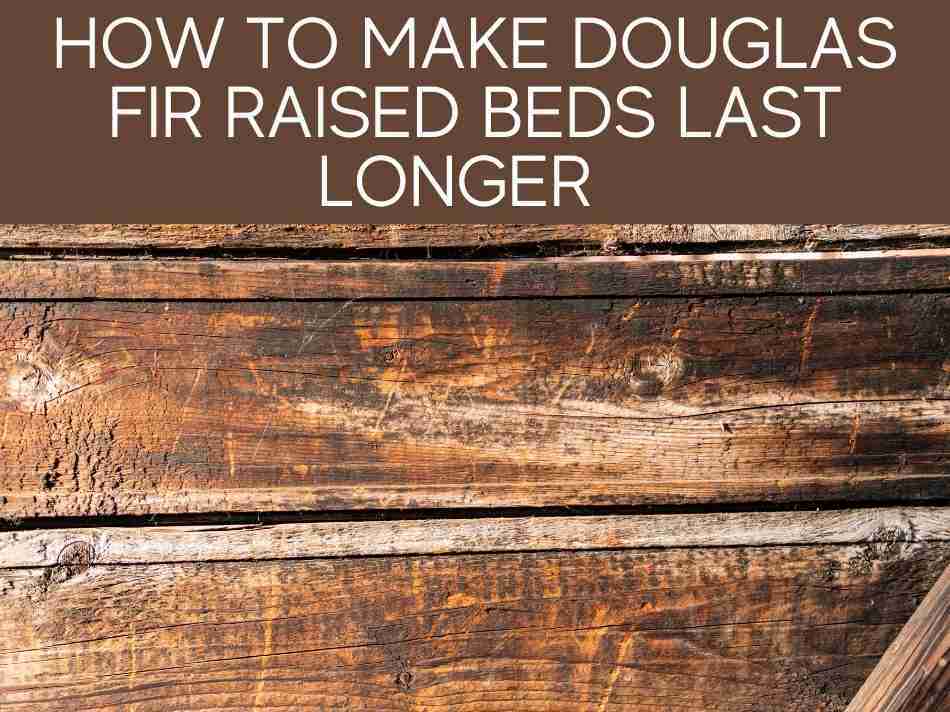 Wood burning or Yakisugi–an ancient Japanese form of wood preservation–can help make wood of any species last longer. Charring the wood without combusting the whole piece leads to carbonization. Carbonization further renders the wood water resistant, thereby making it more durable. Wood burning also makes the wood weather-resistant, bug resistant, and in some cases, even fire-resistant.
Are Douglas fir raised beds safe for vegetables?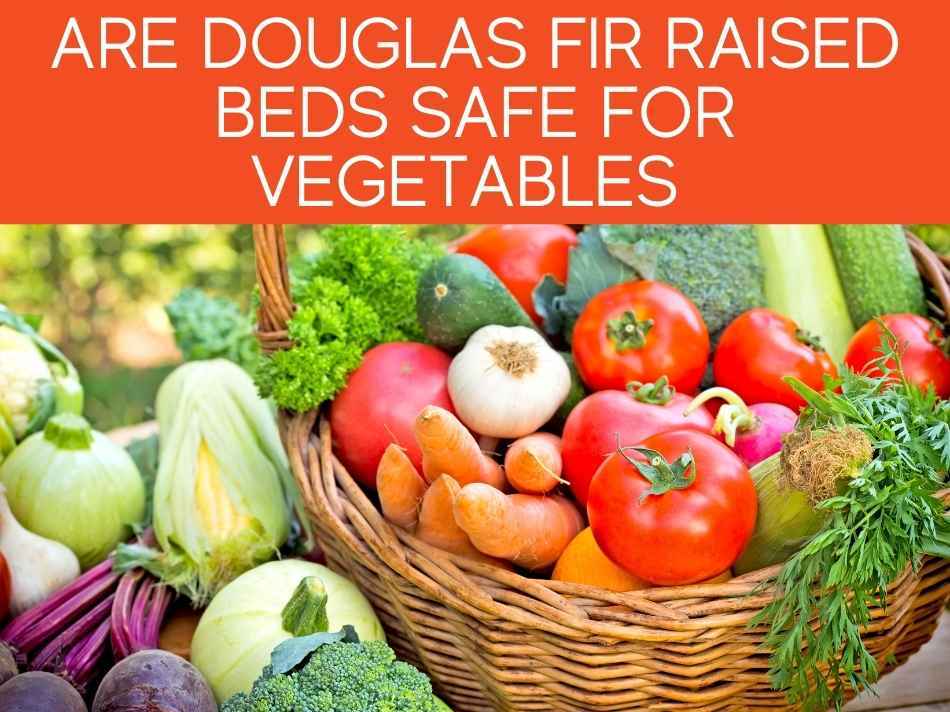 The wood that you will use for building the raised bed in your garden is likely to be constantly wet and will be in direct contact with the soil on which your plants will grow. You need to build your raised beds using a material that does not quickly decay due to the constant moisture and which is also safe for your produce.
Keeping this in mind, Douglas fir are suited to build raised beds in your garden as they do not decompose even after prolonged exposure to wet surfaces, nor does it discharge toxic materials into the soil.
Raised beds can warp and split over time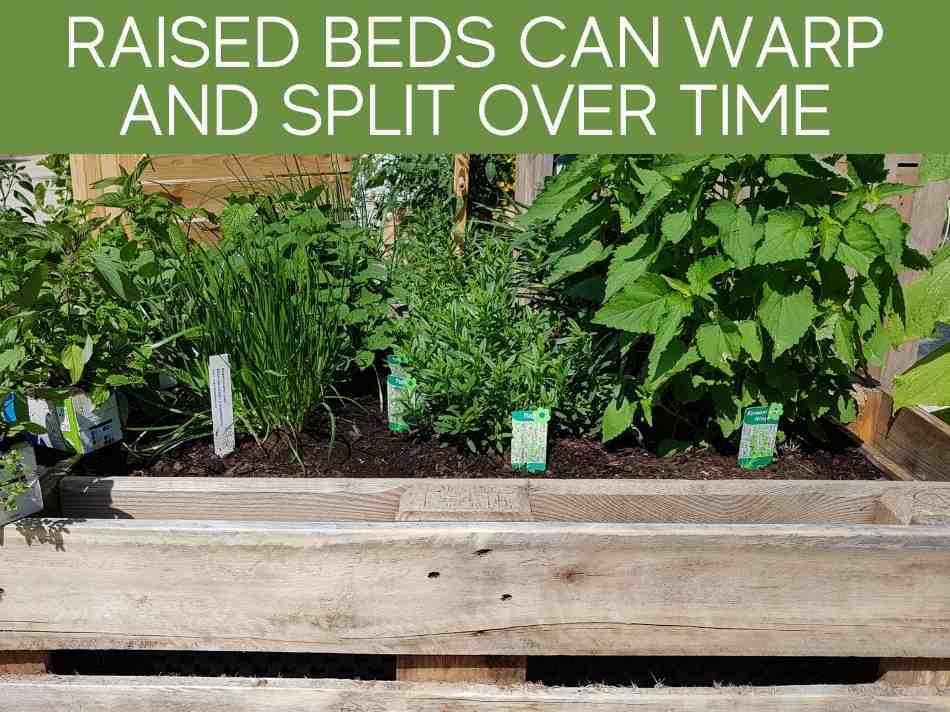 Raised beds constructed from wood can warp and split over time. This is true for any wood–even a rot-resistant species like Douglas fir.
As a softwood species, Douglas fir boards tend to warp and split in outdoor exposure and must be secured properly to prevent a raised garden bed from falling apart. This happens because the fir wood experiences shrinkage over time. This shrinkage in the wood dimensions results in warping and splitting of the wood.
Conclusion
Douglas fir has proven to be one of the top choices for building raised beds in the garden. It is also beneficial to use untreated wood. While the lumber industry has modified its processes in the past decade and no longer uses toxic chemicals to treat wood, untreated wood is still best. Douglas fir is durable, cost-effective, and safe for your produce.